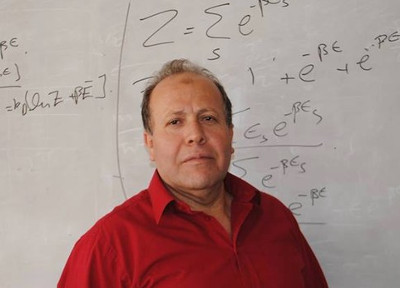 Imad Barghouthi
–
Once again, I am indebted to you and several other organizations in and out of the international scientific community for your outspoken protest of my second detention by Israeli authorities.
I would like to take this occasion, if you will permit me, not only to express my heartfelt gratitude and that of my family for the support I received, but also to make the case for support of all Palestinian prisoners in their struggle for liberation. Academics or otherwise, we are all caught in the same perpetual cycle of suppression and disruption.
I was very happy to learn, while incarcerated, that physicists from around the world have established the Palestinian Advanced Physics School and created an international group called "Scientists for Palestine" to support science in Palestine and to help integrate Palestine into the international scientific community. Whereas such support is admirable, it cannot exist separately from the totality of our reality as Palestinians living under what now appears to be an indefinite occupation.
According to Palestinian prisoners' rights group Addameer, Israeli occupation authorities currently hold some 700 Palestinians as administrative detainees, meaning they are being held on the basis of secret evidence, for indefinitely renewable periods. But Israel now understands that such practices can bring negative publicity in its way, as has happened in my case when I was detained in December 2014. This time around, I was originally ordered to administrative detention without charge or trial and then, as a result of the outcry generated by you and others, I was transferred to the military courts, where I was accused of "incitement" for posting on social media.
What is important to understand is that the military law under which Palestinians in the West Bank are prosecuted does not grant the right of due process enshrined in civil law. Military orders always take precedence over Israeli and international law. Administrative detentions are the most egregious manifestations of this system, but the leveling and prosecution of a charge by Israeli authorities is no less unjust because it rests upon apartheid and occupation.
Israel's cruel practices of suppression of Palestinian Arabs, not only in the West Bank and Gaza, but also within Israel, have been well-documented. In Israel, for example, Palestinian political leader Sheikh Raed Salah, who was convicted of "inciting violence and terrorism" in October of 2015, is now on hunger strike in protest of his solitary confinement, in which he was placed shortly after his arrest, as well as of his mistreatment by his captors. Hundreds of Palestinians have now been charged with "incitement" and imprisoned for posting about Palestinian politics and occupation on Facebook and social media.
As Dr Gregory Shupak of the University of Guelph in Canada put it, "People across historic Palestine can only know justice once all of its inhabitants live in equal conditions."
LINKS
– Nature Journal: Israel must release Palestinian physicist
– European associations urge freedom for imprisoned professor ImadBarghouthi
– British union, the University and College Union, of over 100,000 academic staff, passed a resolution at their congress last week supporting Imad
– Here is the list/petition: An Open Letter on Behalf of Professor Imad Ahmad Barghouthi. This letter is a joint effort of the US Academic and Cultural Boycott of Israel (USACBI) and the Association of Academics for the Respect of International Law in Palestine (AURDIP) for imprisoned professor Imad Barghouthi.
– European organizations and academics sent a letter to the European Commissioner for Research, Science and Innovation, urging action on Barghouthi's case. "Today, over 100 renowned academics, including Angela Davis, Freeman Dyson, Noam Chomsky, and David Mumford, have issued a statement and an open letter urging Barghouthi's release"
– Carol Valoris and the Committee of Concerned Scientists have sent the following letter to Netanyahu requesting Imad either be charged or released: "Palestinian Astro-Physicist Detained at Israeli Checkpoint for a Second Time"
December 20th, 2016 – Sent by the author – French version